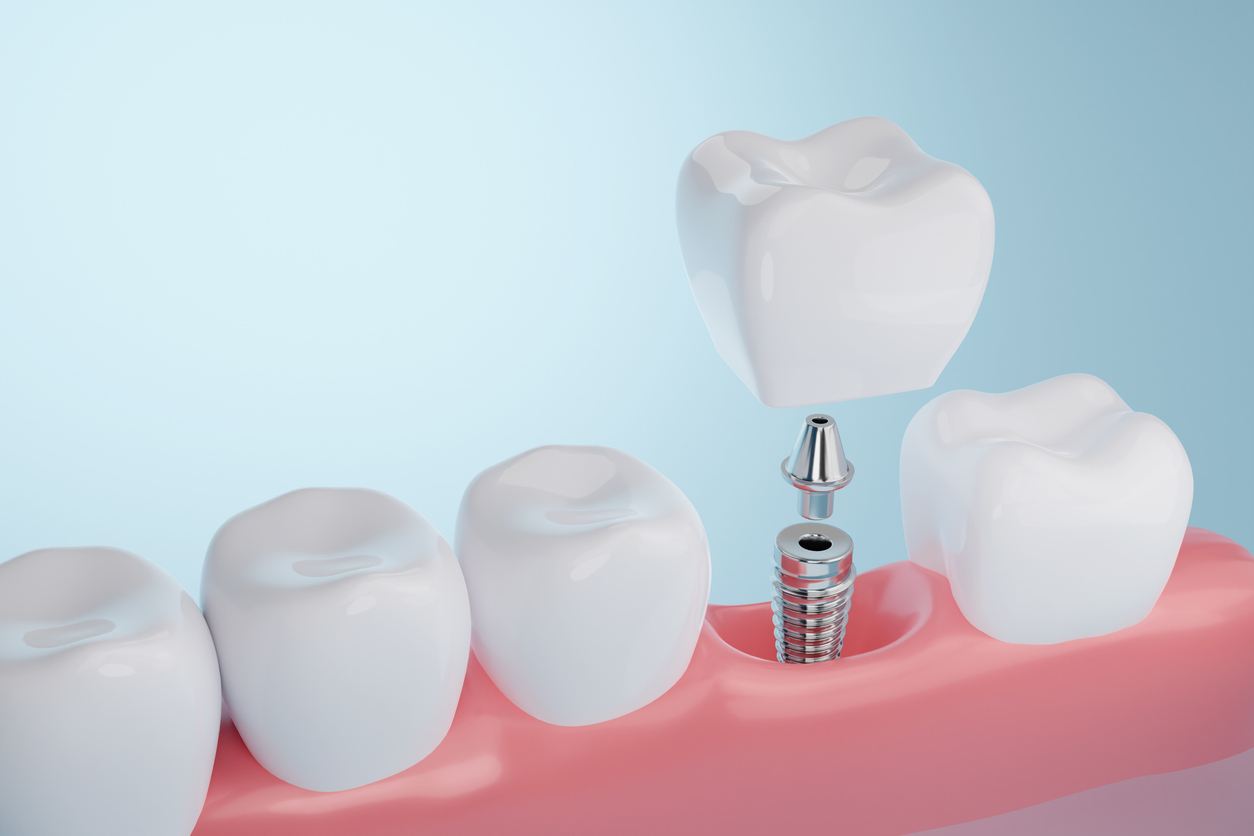 Dental implants are designed to provide a foundation for replacement teeth that look, feel and function like natural teeth
The person who has lost teeth regains the ability to eat virtually anything and can smile with confidence, knowing that teeth appear natural and that facial contours will be preserved. The dental implants are tiny titanium posts which are placed into the jawbone where teeth are missing. The bone bonds with the titanium, creating a strong foundation for artificial teeth. In addition, dental implants can help preserve facial structure, preventing the bone deterioration which always occurs when teeth are missing.
Dental implants are changing the way people live! With them, people are rediscovering the comfort and confidence to eat, speak, laugh and enjoy life.
Working in conjunction with the oral surgeon, Dr. Veys will precisely formulate an individualized treatment plan to address your concerns and replace your missing teeth, specific to your particular situation or unique needs. There is no "one size fits all" solution, and Dr. Veys and her team, work methodically to ensure the successful outcome of your treatment. Proper diagnosis is the foundation of any treatment, and we use the most current diagnostic and treatment technology to achieve this goal. Utilizing in office Cone Bean CT scan technology, the entire treatment team can precisely look in 3 dimensions at the volume of bone, your individual anatomy and position of critical anatomic structures such as nerves and blood vessels within the jaws and facial bones. Dr. Veys and the Oral & Maxillofacial Surgeons she consults with also use digital optical scanners to obtain exact impressions and models of your jaws as well. This technology has essentially made the old techniques of obtaining dental impressions by gagging on a mouth full of messy impression material a thing of the past. After obtaining the necessary imaging as described above, we use proprietary 3D treatment planning software to analyze and manipulate the digital images to plan and guide the final position of your dental implants, ensuring accurate, comfortable, esthetically pleasing and functional dental restoration.
Below is a video of an actual patient treatment plan that Dr. Veys and the OMS surgeon developed with this digital technology.
For more information, or to schedule an appointment, please call our office: 610-489-6663.
Dental Implant Procedure
Dental implants can be thought of as "artificial tooth roots". That are placed into the jawbone. Components called "abutments" are then attached to the implants, which emerge from the gum tissue which prevent the gum from growing over the top of the implants. Artificial teeth (crowns or bridges) are then placed on these abutments, which look like tiny posts that provide a stable foundation for your replacement teeth.
For most patients, the placement of dental implants involves one surgical procedure, usually performed by a specialist, the Oral & Maxillofacial Surgeon. First, implants are placed within your jawbone. The implants are beneath the surface of the gums into the jawbone, gradually bonding/integrating with the jawbone over a period of about 12 weeks. You should be able to wear temporary crowns or a partial denture if necessary and eat a regular diet during this time, but just have to avoid chewing directly over the healing implants.
After the implant has bonded to the jawbone, the second phase begins, when Dr. Veys can then start making your new teeth. An optical digital impression is taken. Then, the replacement teeth are inserted over the abutments allowing you to chew, smile and speak just like you can with your natural teeth.
Schedule an appointment today
Phone: 610-489-6663
Address:
Albina Veys, DMD
104 South 2nd Avenue
Collegeville, PA 19426
Telephone:
Phone: 610-489-6663
Fax: 610-489-3926
Email:
Request An Appointment
The first step towards a beautiful, healthy smile is to schedule an appointment. Please contact our office by phone or complete the appointment request form below. Our scheduling coordinator will contact you to confirm your appointment.